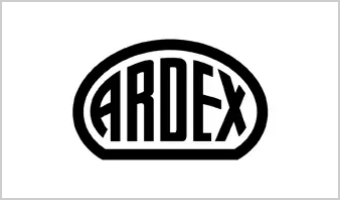 Arditex NA Latex Levelling Compound is a self-smoothing, protein free, latex levelling compound with improved flow and excellent adhesion. It is ultra rapid setting and has improved flexibility and moisture resistance. These unique properties ensure that Arditex NA Latex Levelling Compound can be used with confidence over almost all subfloors without priming, including ceramic tiles, bitumen and flooring grade plywood. Resilient floor coverings can be installed after just 4 hours and ceramic tiles in as little as 3 hours.
Arditex NA Latex Levelling Compound comes in two parts as one unit, a 20kg bag of powder and a 4.85kg bottle of additive. Arditex NA Latex Levelling Compound can be applied on all common subfloors such as concrete and cement/sand screeds, prepared terrazzo, flooring grade asphalt, quarry tiles, internal steel floors, Ardex Damp Proof Membranes, porcelain tiles, flooring grade plywood etc. It is ideal for use where low odour products are required.
Arditex NA can also be used to encapsulate under-tile heating cables/mats onto concrete/screed/tile backing boards, prior to fixing ceramic floor tiles. Arditex NA can be laid from a feather edge up to at least 12mm in a single application or up to 30mm after incorporating a coarse aggregate.
Features & Benefits of the Ardex Arditex NA Rapid Setting Levelling Compound
Click the links below to see the technical specifications and user guides for this product.
Delivery Times
Delivery times for all delivery services are Monday to Friday (excluding Bank Holidays) 8am - 6pm. A 'working day' is Monday to Friday, excluding bank holidays. Weekends and bank holidays do not count as working days.
Delivery Costs
For information on delivery costs, please visit the main Delivery page.
Delivery Damages
It's important that you indicate the damages on the delivery note when you sign for the goods. Notify The London Tile Company by calling our advice line on 0333 320 80 48 if there are any damages or irregularities to your order within 24 hours of delivery.