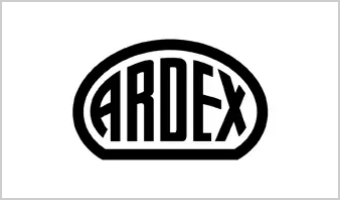 Ardex-Flex FS Tile Grout is a flexible cement-based tile grout with built in admix, which negates the need to add a separate admix. It's most commonly used for grouting narrow grout joints up to 4mm wide. Ardex-Flex FS Tile Grout is suitable for use on a range of substrates, including porcelain tiles, ceramic tiles, non-moisture sensitive natural stone and quarry tiles, as well as extruded tiles and glass block work.
Ardex-Flex FS Tile Grout has excellent water resistance and flexibility properties. Once hardened, the grout is weather resistant and completely unaffected by water, making it the perfect tile grout for a range of internal and external tiling projects. It's even suitable to use in areas of complete water submersion like swimming pools!
Ardex-Flex FS Tile Grout is available in 35 distinct colours, and has been formulated to blend to a uniform shade, ensuring a consistent and streak-free finish every time. You can use Ardex Flex FS Tile Grout for both commercial and domestic locations including swimming pools, showers and kitchens. It can be applied to both wall and floor tile joints and can receive foot traffic after 5 hours at 20°C.
Features & Benefits of the Ardex Flex FS Tile Grout (2.5kg)
Click the links below to see the technical specifications and user guides for this product.
Delivery Times
Delivery times for all delivery services are Monday to Friday (excluding Bank Holidays) 8am - 6pm. A 'working day' is Monday to Friday, excluding bank holidays. Weekends and bank holidays do not count as working days.
Delivery Costs
For information on delivery costs, please visit the main Delivery page.
Delivery Damages
It's important that you indicate the damages on the delivery note when you sign for the goods. Notify The London Tile Company by calling our advice line on 0333 320 80 48 if there are any damages or irregularities to your order within 24 hours of delivery.
What our customers say
Posted by Beverley Mccaffrey on 19th Apr 2022
Easy to find What I wanted polite customer service.