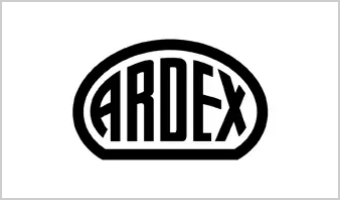 Ardex ST Silicone Sealant is a one component neutral cure elastic sealant and is available in six colours that complement the Ardex Flex grout range. Easy to apply and smooth, Ardex ST Elastic Silicone Sealant is ideal for movement joints, corner and connecting joints in bathrooms, showers and living areas, and doors and windows abutting tiles. The 310ml tubes are easy to work with and fit in standard size silicone and skeleton caulking guns.
Ardex ST Silicone has excellent resistance to weather, UV-radiation and commonly used cleaning chemicals and disinfectants. This makes it suitable for both internal and external areas without having to reapply and re-silicone often. It's neutral cure and low odour, so you don't need any special tools to help it go off and it won't leave a bad smell during application. Ardex ST Silicone also minimises discolouration and is suitable for most tile surfaces including natural stone, and contains a fungicide to prevent the growth of fungi and moulds in those hard to reach areas.
The strong silicone bond means you can use this product on both walls and floors, and as it's unaffected by thermal changes you can even use it with underfloor heating systems too. A skin forms in just 5 minutes after application and you should expect to get approximately 9 metres of silicone per cartridge in a standard bead.
Features & Benefits of the Ardex ST Silicone Sealant
Click the links below to see the technical specifications and user guides for this product.
Delivery Times
Delivery times for all delivery services are Monday to Friday (excluding Bank Holidays) 8am - 6pm. A 'working day' is Monday to Friday, excluding bank holidays. Weekends and bank holidays do not count as working days.
Delivery Costs
For information on delivery costs, please visit the main Delivery page.
Delivery Damages
It's important that you indicate the damages on the delivery note when you sign for the goods. Notify The London Tile Company by calling our advice line on 0333 320 80 48 if there are any damages or irregularities to your order within 24 hours of delivery.
What our customers say
Posted by John on 19th Apr 2022
I have used these and the Kerakoll colour silicones from London Tile and both are great