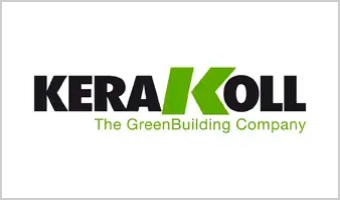 Kerakoll Biogel® No Limits is a standard setting tile adhesive. The Kerakoll geo‑binder based, structural flexible multi‑purpose gel adhesive can be used to bond all types of material, on all substrates, for all use - even in extreme conditions. This tile adhesive is eco‑friendly and ideal for use in GreenBuilding and doesn't cause irritation.
This tile adhesive is thixotropic, smooth and light at any thickness, maintaining shape and preventing tile slippage. It offers a softer mix when compared to traditional cement-based adhesive, meaning easier application. Biogel® adhesive guarantees maximum adhesion under any conditions. It structurally bonds the substrate to the tile for long-lasting adhesion. Due to the strength of the low-environmental-impact resins, Biogel® stands up to stresses on the most deformable substrates.
You can use Kerakoll Biogel® No Limits tile adhesive on existing tiles, screeds, concrete, plasterboard, gypsum and anhydrite, brick and blockwork, lime and cement-based renders, timber, metal, and PVC.
Features and Benefits of Kerakoll BioGel No Limits Adhesive
Click the links below to see the technical specifications and user guides for this product.
Delivery Times
Delivery times for all delivery services are Monday to Friday (excluding Bank Holidays) 8am - 6pm. A 'working day' is Monday to Friday, excluding bank holidays. Weekends and bank holidays do not count as working days.
Delivery Costs
For information on delivery costs, please visit the main Delivery page.
Delivery Damages
It's important that you indicate the damages on the delivery note when you sign for the goods. Notify The London Tile Company by calling our advice line on 0333 320 80 48 if there are any damages or irregularities to your order within 24 hours of delivery.