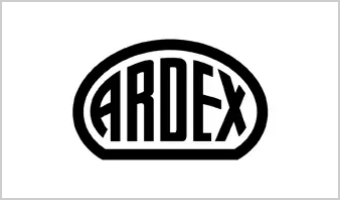 Ardex X77 Tile Adhesive is a Microtec fibre reinforced, cement-based, floor and wall tile adhesive with an extended open time of up to 60 minutes. Specifically formulated to have enhanced properties of adhesion and flexibility, the advanced slump resistance properties make Ardex X77 Tile Adhesive ideal for fixing large format wall tiles. Ardex X77 Tile Adhesive is available from The London Tile Co in 20kg bags and in two colours – grey and white.
Ardex X77 Tile Adhesive is ideal for fixing ceramic, fully vitrified tiles and other tiles with low porosity - as well as glass and porcelain mosaics, and terrazzo - in both internal and external situations. The mixed mortar has a slump free consistency with very high initial grab enabling heavy wall tiles to be fixed, thus reducing the need for battens and spacers. Ardex X77 Tile Adhesive adheres strongly to most materials including concrete, renders, screeds, heated sub-floors, brick and blockwork, gypsum plaster, plasterboard and primed existing ceramic tiled surfaces.
As the trend for larger format tiles continues to grow in popularity, so do the fixing challenges they present. The additional weight of the tiles is compounded by the move from textured-back tiles to those with smooth undersides, a trend which continues across the entire industry. Ardex X 77 Tile Adhesive have been specifically engineered to meet these challenges, allowing modern tiles to be fixed with ease, whilst also providing additional performance benefits that support modern fixing practices.
Features & Benefits of the Ardex X 77 Microtec Tile Adhesive
Click the links below to see the technical specifications and user guides for this product.
Delivery Times
Delivery times for all delivery services are Monday to Friday (excluding Bank Holidays) 8am - 6pm. A 'working day' is Monday to Friday, excluding bank holidays. Weekends and bank holidays do not count as working days.
Delivery Costs
For information on delivery costs, please visit the main Delivery page.
Delivery Damages
It's important that you indicate the damages on the delivery note when you sign for the goods. Notify The London Tile Company by calling our advice line on 0333 320 80 48 if there are any damages or irregularities to your order within 24 hours of delivery.