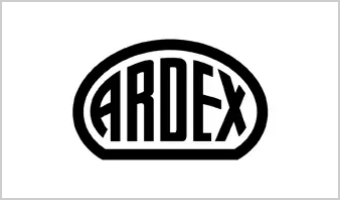 Ardex X7 Rapid Setting Tile Adhesive is a versatile, quick setting, multipurpose cementitious tile adhesive with enhanced properties of adhesion. It is suitable for fixing ceramic, porcelain, glass mosaics, and most non-moisture sensitive natural stone floor and wall tiles and has become the industry standard since its launch in the 1960's. This rapid setting tile adhesive can be mixed to a semi-pourable consistency, facilitating solid bed fixing and is ideal for large format floor tiles with ease.
Mixed more conservatively, Ardex X7 Rapid Tile Adhesive has a slump free consistency with high initial grab, enabling heavy wall tiles to be fixed and reducing the need for battens and spacers. Ardex X7 Tile Adhesive adheres strongly to most construction materials such as concrete, renders, screeds, heated sub-floors, brick and blockwork, gypsum plaster, anhydrite screeds, plasterboard and existing ceramic tiled surfaces. Ardex X7 Rapid Tile Adhesive can also be used for bonding rigid foam insulating materials.
Ardex X 7 R is a rapid setting flexible tile adhesive that allows tiles to be grouted and trafficked just 2 hours after fixing. This allows you to complete tiling projects quicker and more efficiently, saving you time and money. As well as being suitable for use with underfloor heating systems, it can also be used on plywood overlays and with all types of ceramic tile and non-moisture sensitive natural stone. Available in 20kg bags in either white or grey.
Features & Benefits of the Ardex X7 Rapid Setting Tile Adhesive
Delivery Times
Delivery times for all delivery services are Monday to Friday (excluding Bank Holidays) 8am - 6pm. A 'working day' is Monday to Friday, excluding bank holidays. Weekends and bank holidays do not count as working days.
Delivery Costs
For information on delivery costs, please visit the main Delivery page.
Delivery Damages
It's important that you indicate the damages on the delivery note when you sign for the goods. Notify The London Tile Company by calling our advice line on 0333 320 80 48 if there are any damages or irregularities to your order within 24 hours of delivery.