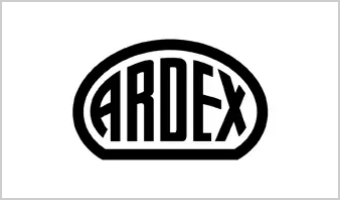 Ardex AF200 PLUS Uncoupling Matting Adhesive is a ready mixed easy to apply matting adhesive made by leading brand Ardex. It is the new improved formula of AF200. This adhesive is ideal for installing fleece-backed uncoupling mats prior to tiling. AF200 is available in a 6kg and 14kg sized tub choice.
Ardex AF200 PLUS adhesive is to be used in internal dry areas only. With this adhesive you can fix fleece backed matting to timber, concrete and cement or sand screed subfloors - with no need to prime! (Schluter Ditra Heat Duo should only be fixed to timber floors with Ardex AF200 PLUS). Tiling can commence immediately after the matting is laid and has a tack-life of an hour, leaving you plenty of time to work up to an hour after application. In addition Ardex AF200 PLUS has a high initial grab, limiting curling of the mat for easy installation and speeding up working time.
Using a B1 or 2mm x 6mm V-shaped notched serrated trowel, apply a ribbed bed of Ardex AF200 Plus onto the subfloor and leave it to air for 5 - 10 minutes. Place the matting fleece side down into the tacky adhesive and press firmly using a steel trowel, abutting all edges. This should give you a perfect finish.
Features and Benefits of Ardex AF200 Plus Adhesive
Click the links below to see the technical specifications and user guides for this product
Delivery Times
Delivery times for all delivery services are Monday to Friday (excluding Bank Holidays) 8am - 6pm. A 'working day' is Monday to Friday, excluding bank holidays. Weekends and bank holidays do not count as working days.
Delivery Costs
For information on delivery costs, please visit the main Delivery page.
Delivery Damages
It's important that you indicate the damages on the delivery note when you sign for the goods. Notify The London Tile Company by calling our advice line on 0333 320 80 48 if there are any damages or irregularities to your order within 24 hours of delivery.