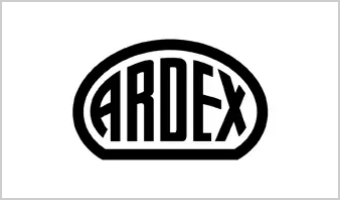 Ardex X 60 PU Flex Resin Tile Adhesive is a two part polyurethane reaction resin that allows you to fix tiles to problematic substrates such as fibreglass, steel, and PVC coverings. You can also use it to tile over old existing tiles, and it will bond all tile types - even moisture sensitive natural stone. This resin tile adhesive is suitable for moisture sensitive substrates too, such as particle boards, plywood, plasterboard, gypsum fibre boards, fibre cement boards and plaster slabs.
Once cured, Ardex X 60 PU Flex resin tile adhesive is completely water resistant and is suitable for both internal and external areas, including swimming pools and areas of complete water immersion. It has a reliable bond to impermeable, smooth and vibrating substrates and is easy to apply with no special tools required. This rapid curing tile adhesive can receive light foot traffic and is groutable after approximately three hours.
Features & Benefits of the Ardex X 60 PU Flex Resin Tile Adhesive
Click the links below to see the technical specifications and user guides for this product.
Delivery Times
Delivery times for all delivery services are Monday to Friday (excluding Bank Holidays) 8am - 6pm. A 'working day' is Monday to Friday, excluding bank holidays. Weekends and bank holidays do not count as working days.
Delivery Costs
For information on delivery costs, please visit the main Delivery page.
Delivery Damages
It's important that you indicate the damages on the delivery note when you sign for the goods. Notify The London Tile Company by calling our advice line on 0333 320 80 48 if there are any damages or irregularities to your order within 24 hours of delivery.