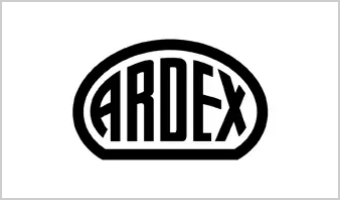 The Ardex B1 2mm V Notch Trowel makes quick work of laying decoupling membranes or other matting with Ardex AF200 Plus Adhesive, or any other LVT or Vinyl Adhesive. This trowel features a 2mm V-notch for creating a strong ribbed bed of adhesive on flat and level ares prior to laying any matting.
For maximum coverage, Ardex recommends using the Ardex B1 2mm V Notch Trowel at a 45° angle. When using this trowel to lay decoupling membrane, dry lay the uncoupling matting prior to adhering it to the subfloor to ensure accuracy of cuts and fitting. Apply a ribbed adhesive bed to the subfloor using the B1 V-shaped notched serrated trowel and leave to air for 5-10 minutes. The matting must then be laid into the wet/tacky adhesive fleece-side down, and pressed firmly into place using a steel trowel, butting all edges.
The matting must be installed within the specified open time for the adhesive used and can be adjusted and repositioned within the specified adjustment time. Once laid, tiling can commence immediately.
Features & Benefits of the Ardex B1 2mm V Notch Trowel
Delivery Times
Delivery times for all delivery services are Monday to Friday (excluding Bank Holidays) 8am - 6pm. A 'working day' is Monday to Friday, excluding bank holidays. Weekends and bank holidays do not count as working days.
Delivery Costs
For information on delivery costs, please visit the main Delivery page.
Delivery Damages
It's important that you indicate the damages on the delivery note when you sign for the goods. Notify The London Tile Company by calling our advice line on 0333 320 80 48 if there are any damages or irregularities to your order within 24 hours of delivery.