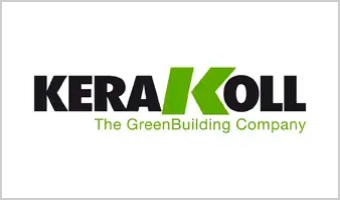 Kerakoll Fugabella Silicone Color is range of coloured decorative silicone sealants for use with porcelain tiles and ceramic tiles. This range of 50 design colours perfectly matches the corresponding Kerakoll Fugabella Color Grouts.
Kerakoll Silicone Color if famous for its high degree of adhesion - even to non-absorbent surfaces! This guarantees the integrity and watertightness of your joints when using ceramic tiles or porcelain tiles. This range of silicone sealants are mould resistant, resistant to freezing, and has high chromatic stability. Because of their silicone make up, Kerakoll Fugabella silicone sealants are ideal for sealing porcelain and ceramic tiles, even in areas that have permanent contact with water like swimming pools, spas, and wet rooms.
Kerakoll Silicone Color is for elastic, waterproof sealing of expansion and connection joints on: porcelain tiles, low thickness slabs, ceramic tiles, klinker, cotto, glass and ceramic mosaic, of all types and formats & bathroom fittings, showers, metal doors and windows, glass and fibreglass. For internal and external use, including environments subject to freezing, on expansion and connection joints in tile coverings on balconies, terraces, internal floors, aquariums and swimming pools.
Features and Benefits of Kerakoll Fugabella Silicone Sealant
Click the links below to see the technical specifications and user guides for this product.
Delivery Times
Delivery times for all delivery services are Monday to Friday (excluding Bank Holidays) 8am - 6pm. A 'working day' is Monday to Friday, excluding bank holidays. Weekends and bank holidays do not count as working days.
Delivery Costs
For information on delivery costs, please visit the main Delivery page.
Delivery Damages
It's important that you indicate the damages on the delivery note when you sign for the goods. Notify The London Tile Company by calling our advice line on 0333 320 80 48 if there are any damages or irregularities to your order within 24 hours of delivery.
What our customers say
Posted by John on 19th Apr 2022
Needed a silicone to match a wood-look floor. The colour matched perfectly and was easy to apply