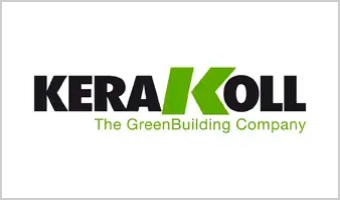 Kerakoll Green Pro Decoupling Matting is an uncoupling and anti-cracking waterproof membrane with high adhesion for outdoor surfaces like balconies, terraces and patios before laying tiles or natural stone. This decoupling matting creates a waterproof surface - even when overlaid on substrates that are cracked, not perfectly cured or contain vapour pressure due to residual moisture content. Kerakoll Green Pro matting is 1.15m wide, and we sell it by the linear metre so you never end up buying more than you need. A full roll equates to 20 linear metres, or 23m².
Kerakoll Green Pro Matting is a multi-layer composite polymer system comprising of three layers. Firstly, hydrophobic PA fibres with high tensile strength guarantee a superior and evenly distributed contact surface. Next, a waterproof and variable geometry HDPE structure guarantees separation of the substrate and flooring. Lastly, the breathable sheet guarantees passage of vapour from uncured screeds, guaranteeing high adhesion to the substrate.
Kerakoll Green Pro Decoupling Matting is for internal and external use. It's perfect to waterproof, separate and compensate vapour pressure ahead of to laying of tiles and natural stone in domestic, commercial, and industrial uses. Kerakoll Green Pro Decoupling Matting is supplied per linear metre from The London Tile Co, meaning you never have to buy more than you actually need.
Features and Benefits of Kerakoll Green Pro Decoupling Matting
Click the links below to see the technical specifications and user guides for this product.
Delivery Times
Delivery times for all delivery services are Monday to Friday (excluding Bank Holidays) 8am - 6pm. A 'working day' is Monday to Friday, excluding bank holidays. Weekends and bank holidays do not count as working days.
Delivery Costs
For information on delivery costs, please visit the main Delivery page.
Delivery Damages
It's important that you indicate the damages on the delivery note when you sign for the goods. Notify The London Tile Company by calling our advice line on 0333 320 80 48 if there are any damages or irregularities to your order within 24 hours of delivery.