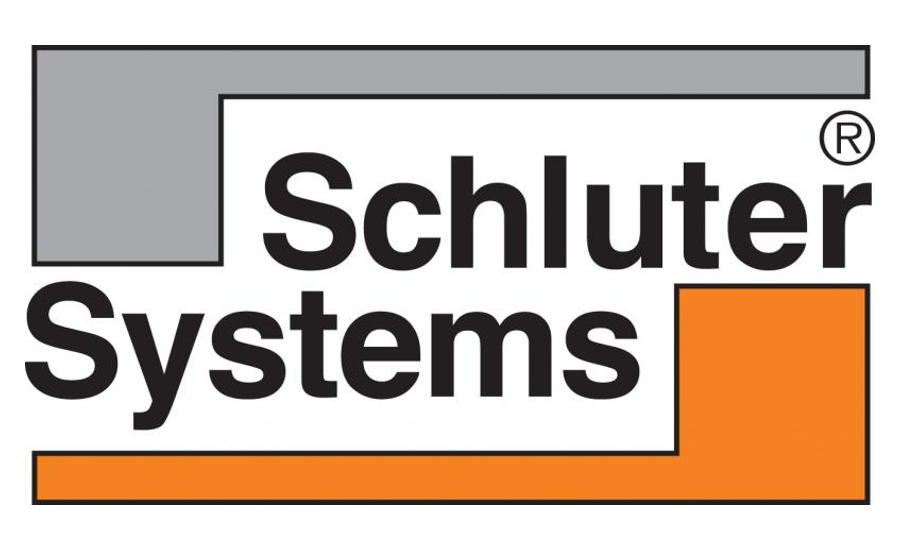 Schluter DITRA HEAT DUO Matting is polyethylene membrane with a cut-back stud structure and a special sound-deadening/thermal barrier fleece laminated on the underside. It is a universal substrate for tile coverings, which serves as an uncoupling, crack bridging, waterproofing, vapour pressure equalisation layer and is designed to be used as a carrying membrane for the Schluter DITRA HEAT E HK Heating Cable. Available in 1m² units or rolls from The London Tile Co, so you never buy more than you need!
Schluter DITRA HEAT DUO Matting can be used on walls & floors. The Schluter DITRA HEAT E HK Heating Cable snaps easily into place in the matting without the need for fasteners or clips. The heating cable can be installed wherever it is necessary in the matting, meaning you can put heating cables only under the areas that you want to heat. Schluter DITRA HEAT DUO Matting features a thermal fleece laminated to the underside which bonds with the adhesive and reduces impact sound by 13dB, and enables a faster heat-up response, with 80% more heat directed to your tiled floor than standard matting.
Schluter DITRA HEAT DUO Matting is non-rotting, waterproof, elastic and crack-bridging. The material is highly resistant to solutions containing salts, acids and alkalis, as well as many organic solvents, alcohols and oils. The suitability of the material must be verified based on the specific chemical stresses, including the anticipated concentration, temperature and length of exposure. The water vapour diffusion seal of the material is relatively high. The material is physiologically safe. In special cases, the suitability of the material must be verified based on the anticipated chemical and mechanical stresses.
Features & Benefits of Schluter Ditra Heat Duo Matting
How to install Schluter Ditra Heat Duo matting
Matting installation
Cut sections of Schlüter®-DITRA-HEAT/-DUO to size and fully embed the anchoring fleece into the adhesive using a 6 x 6 mm notched trowel. Immediately press the material into the adhesive with a float or roller. Work in a single direction, and observe the curing times of all materials. When installing rolled materials, it is best to align the studs of the Schlüter®-DITRA-HEAT/-DUO with light tension at the time of embedding the material. The individual membranes should be aligned next to each other with the stud structure lined up.
Important: Testing of the heating cable (if using) must be carried out prior to installation, and again after installation of the heating cable and before tile/stone floor finish is installed. To test the resistance of the heating cable use the Schlüter®-DITRA-HEATE-CT cable tester with inbuilt alarm.
Floors: To prevent damage or detachment from the substrate, it is recommended to use walking boards (especially in the centre of the assembly) to protect the installed Schlüter®-DITRA-HEAT/-DUO membrane from mechanical impact. The heating cables can be installed immediately after adhering the uncoupling membrane Schlüter®-DITRA-HEAT/-DUO; the heating cable should be installed and pressed into position using a float. We recommend that a groove is prepared in a stud of the Schlüter®-DITRA-HEAT/-DUO membrane to position the heating cable end.
Walls: It is recommended to adhere the Schlüter®-DITRA-HEAT-MA/-DUO-MA mat to the wall with suitable tile adhesive and allow to set. Installation of the heating cable can begin once resistance has been checked and the matting is bonded to the substrate. Once the cable is secured and dependent on the tile or stone covering it may be necessary to in-fill the top of the mat with tile adhesive and allow to set, then comb out adhesive and install tiles.
Substrates for Schlüter®-DITRA-HEAT/-DUO
Always check the substrates on which Schlüter®-DITRA-HEAT and -DUO are to be installed to make sure they are even, rigid, load-bearing, clean and compatible with the materials to be used. Remove all surface components that may weaken the bond. Uneven or sloped areas must be levelled prior to the installation of Schlüter®-DITRA-HEAT/-DUO.
Concrete: Concrete is subject to long-term form changes due to curing processes. Additional tensions may result from the deflection of concrete and pre-stressed concrete. Schlüter®-DITRA-HEAT uncouples the tensions between concrete and tile covering, which means that tiles can be installed as soon as the concrete reaches a sufficient level of stability. On walls, allow at least 6 weeks drying time prior to fixing Schlüter®- DITRA-HEAT/-DUO mat, ensuring the background is stable, clean and rigid and that it is free from any barriers to adhesion, e.g. plaster droppings, grease, etc. Surfaces to be tiled must be flat and when checked with a 2 metre straight edge, any gap under the straight edge between points of contact with the surface should not exceed 3 mm. Minor irregularities should be pre-smoothed prior to fixing the mat.
Cementitious screeds: With Schlüter®-DITRA-HEAT/-DUO, tile and stone can be installed on green cementitious screeds as soon as they are ready to bear weight (please note that additional drying time may be required for screed depths over 40 mm). In accordance with the applicable regulations, cementitious screeds must be at least 28 days old and have a residual moisture level below 2 CM% before tiles can be installed. However, floating screeds and heated screeds are particularly prone to curling and cracking, often because of weight loads and temperature fluctuations.
Calcium sulfate screeds: According to the applicable regulations, calcium sulfate screeds (anhydrite screeds) must have a residual moisture level below 0.5 CM% before tiles can be installed. When Schlüter®-DITRA-HEAT/-DUO is used, the tile covering is ready to be installed as soon as the residual moisture level drops below 2 CM%. If necessary, treat the screed surface in accordance with the codes of practice and manufacturer instructions (sanding, priming). Schlüter®-DITRA-HEAT/-DUO can be installed with dry-set adhesives or other suitable thin-bed adhesives. Schlüter®-DITRA-HEAT/-DUO protects the screed against the penetration of moisture at the surface. Calcium sulfate screeds are sensitive to moisture, making it necessary to protect the screed from further moisture.
Heated screeds: Schlüter®-DITRA-HEAT may also be installed over heated screeds, with the above material notes to be observed (cement, calcium sulfate). When Schlüter®-DITRA-HEAT is used, the covering assembly may be heated up as early as 7 days after completion. Starting from 25 °C, increase the supply temperature by a maximum of 5 °C a day to reach an operating temperature of max. 40 °C.
Note: The use of Schlüter®-DITRA-HEAT over heated screeds allows for individual, partial heating that is separate from the central heating system. This makes it feasible to switch off the central heating system during seasonal transition periods. Furthermore, Schlüter®-DITRA-HEAT can help cover peak loads. Schlüter®-DITRA-HEAT-DUO is not advised as the integrated thermal break will inhibit the heat transfer from the screed.
Click the links below to see the technical specifications and user guides for this product.
Delivery Times
Delivery times for all delivery services are Monday to Friday (excluding Bank Holidays) 8am - 6pm. A 'working day' is Monday to Friday, excluding bank holidays. Weekends and bank holidays do not count as working days.
Delivery Costs
For information on delivery costs, please visit the main Delivery page.
Delivery Damages
It's important that you indicate the damages on the delivery note when you sign for the goods. Notify The London Tile Company by calling our advice line on 0333 320 80 48 if there are any damages or irregularities to your order within 24 hours of delivery.